07 Mag

6 cool florals micro wedding ideas
Check out our micro wedding ideas for the perfect décor
At Wed in Florence, we have rounded up our favourite micro wedding ideas, for the perfect florals and décor during the ceremony and we want to share them with you. Enjoy our selection and don't hesitate to contact us if you want to know more.
No matters if you are dreaming a small wedding, you want to elope or if sadly the pandemic changed your plans. Micro weddings deserve the same attentions of big affairs.  They have the same vibes and feelings of the traditional wedding. you can have all the fixings of the big day; they will be just in a smaller scale.
Decorations of small weddings can be eccentric with extravagant details, romantic with simple elements, modern clear designs or unconventional with over-the-top florals. The most important thing is that they have to reflect your style and your desires. In general, the focus point in micro weddings is the ceremony time.
Create a Lounge Area
If you are getting married in an open space, such as a beach, a field, or a terrace you can create your romantic niche. Use furniture and furnishing details. Coordinate the seating and the colors with what your guests will find at the reception table. To add a twist, you can use different fabrics, like velvets, furs, linen and cottons with different embroideries and opposite or contrasting colors. The extra bonus is that this type of set up can be used also a photobooth during the day or as a backdrop for the cut of the cake.
Textures for micro wedding ideas
Why not? There are no rules in wedding decoration. Twist your wedding design with something unexpected and new! Instead of tons of flowers why not playing a little with textures, fabric and materials? Young and modern couples will love this vibe. Mix and match complementary colors and different heights. This will add a dreamy atmosphere and a soft overall result, infused of romance. For a boho experience add some pampas and little wooded touches.
Use the door!
Sometimes you have everything you need just in front of you. Doors can be used also as scenery and not only to make your big entrance. If they come along with steps, you can decorate them with candles and touches of flowers. For the gate, follow the natural shape. Opt for decors that tend to underline and contain the heights at the same time but with a natural feeling. If you are using a door for the ceremony, remember to have a look that underlines what is already onsite without trying to change it in something completely different.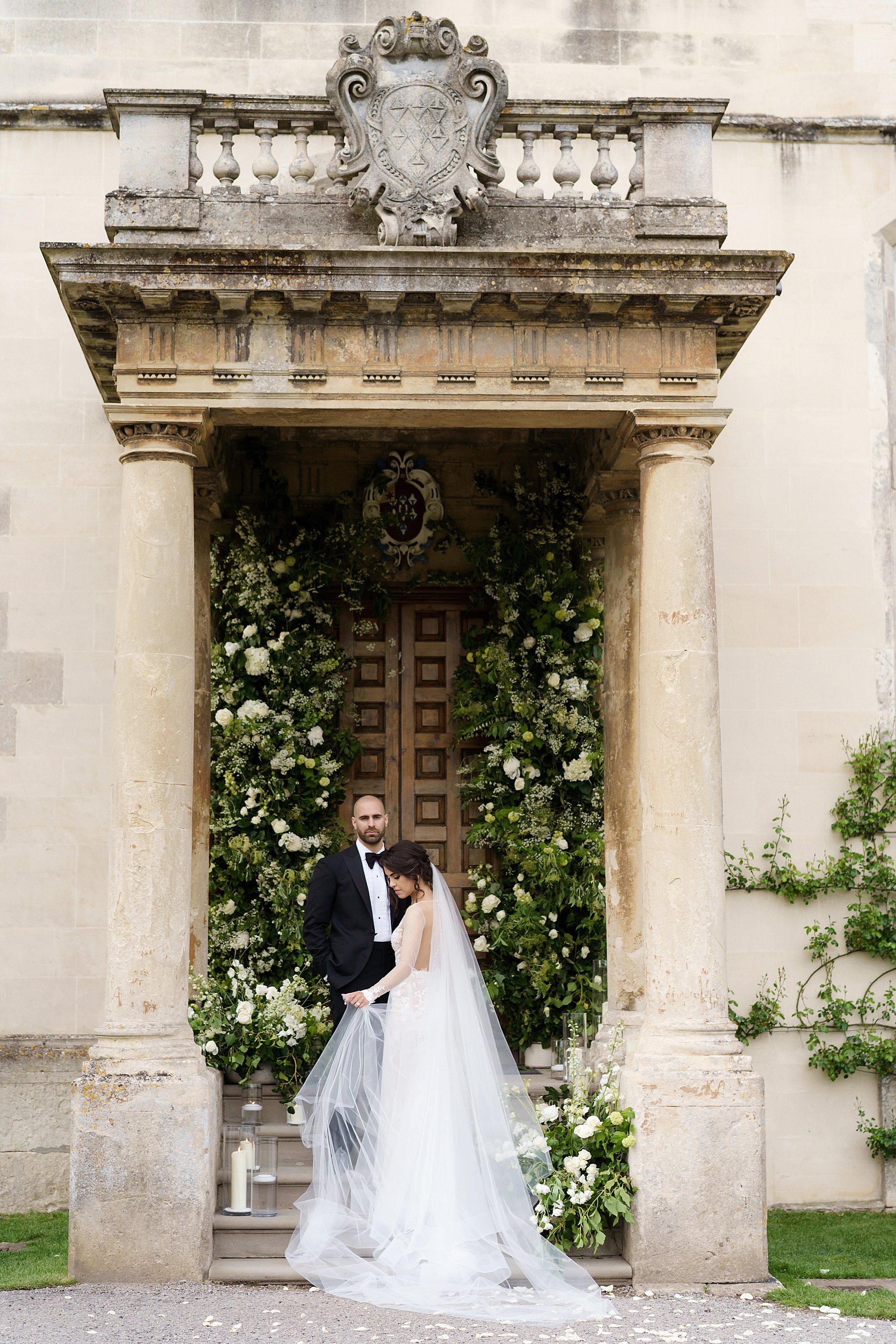 Stay in the nature
Are you planning a low-key intimate wedding open hair? both of you are a nature lover and you have in mind an organic feeling for your celebration? There is no a better idea for a micro wedding that celebrate the wedding ceremony in a field enhancing what surrounds you with just little touches of florals and decors. Surrounded by greenery and spontaneous blooms. You could add some touches of flowers in wooden boxes or recreate some floral bushes strategically placed in the already onsite greenery.
Oversize ceremony decors
In this case nothing is too much. Go bold! This is the type of micro wedding that is featured in the magazines. Create a cohesive project in your mind, a lot is much different from everything, and use as much as you like in terms of fabrics, accessories and flowers. be extravagant, add shapes and volume to create a wow factor décor. Between all the micro wedding ideas, this is one of that we like most. It's creative and for sure you will surprise your selected guests.
Use a vintage car
This is a super cool catch between all the micro wedding ideas. Use a vintage car during the wedding day not just as transportation and for photos but also as a key element of your exchange of vows. There so many models to choose from and so many gorgeous wedding designs that you can implement. A Rolls Royce will be perfect for an elegant affair in a mansion, a vintage fiat 500 is the perfect match with the Tuscan countryside, honestly options are endless.
We hope you really enjoyed the selection of micro wedding ideas we narrowed down for you. Don't hesitate to contact us if you need an extra hand in designing your perfect day.