06 Nov

Add a twist to your wedding day with edible flowers
Pick an edible flower and pimp up your wedding
The wedding day is the most important day of your life. Follow our blog and make it different from all the other celebrations, investing in creative details! The new trend in destination weddings is to use edible flowers.
They have multiple uses and you can play with them during the cocktail hour to add a different vibe to your wedding. So why not use them to pimp up your cocktail hour or welcome drink? Play with different colour's shades and flavors to suit your wedding theme or your mood. Here below some of the best florets.
Edible flowers in welcome drinks
Fresh edible blossoms frozen into cubes of ice are perfect to dress up cocktails or plain water. If you want the wow factor you have absolutely use them! Along this they add colour and taste.
Rosemary and lemon ice cubes: this is a perfect combination. The exquisite scent of rosemary paired with the bitter taste of the lemon is very refreshing and really appreciated, especially in summer weddings. You can also pair the rosemary with the cucumber.It seems uncommon, but they work very well together. They will add herbal and fresh flavors to simple water.
Plain Roses' petals: they have a floral scent. The is flavour is quite subtle and fruity with reminds of strawberry and green apple. Your prosecco glass simply perfect and glamorous if you add a small ice cube of rose petals.
The crazy idea: You can also use ice lollies of multiple flavors. Let your guests eat them or melt the lollies into glasses of water. They will sparkle in the glass and will surprise your guests at their arrival at the venue.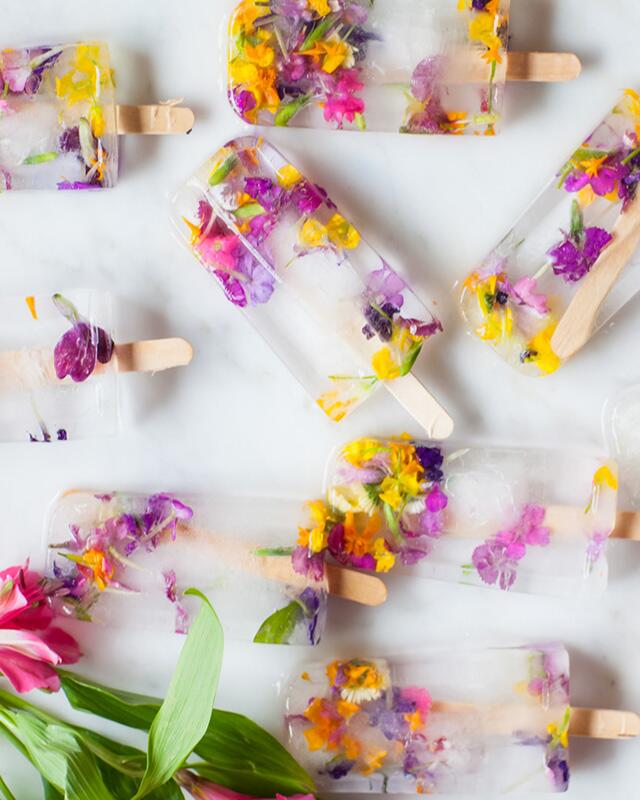 Cocktail hour
if you didn't opt for a welcome drink, another moment of your day suitable to serve those floral crystals is the cocktail hour. Especially if you are a creative couple they will reflect your peronalty.
Hibiscus. This flower, has a cranberry taste. It is already famous for teas and infusion but its citrus taste makes this bloom them perfect for cocktails. Try a mohito with some hibiscus ice cubes.
Violets: beside being absolutely pretty looking, their scent is sweet and perfumed. They will be perect for Gin and Whiskey based booze. To add a different touch, you can add directly the frozen flower to the drinks.
Sage flower: on the contrary of the leaves, they have a soft and sweet taste. They petals have a blue violet colour. They can completely change the vibe of your vodka tonic. Pair it up with lemons to get colorful and tasty welcome popsicles.
Lavander: are you hosting a black tie event and serving champaign all night? Lavender is the perfect match for this drink. Sweet with citrus accents with purple flowers, lavander enhances perfectly this sparkling wine.
Chamomille: for a romantic look there are no better edible flowers than chamomille. It has a delicate and crisp apple reminishing taste. It is perfect for gin cocktails served in round glasses.
Marigold: this edible flower is known also as calendula. In the past it was called the "poor man's saffron," because of its taste. Marigold has a spicy scent of lemon. Beside its name, the edible flowers of this plant work well with tequila based cocktails.
Add cool look to the drinks, from water to cocktails, using this fresh blooms. They are an explosion of colors and flavor, plus not so already seen yet and will definitively add an uncommon glimmer to your drinks.
Ice cubes with edible flowers are super classy, fancy and perfect to add a twist to your wedding day!
Do you need more inspo? Contact us!