12 Nov

Best gifts for travellers
12 amazing wedding gifts travellers.
Looking for the most terrific wedding gifts for travellers? Gifting something that your duo to be will use in their journey around the world is a super cool idea. Not only they will remember you as the best pal, but also, they will reminisce all the memories they share with you in their special day.
There are plenty of options for gifts for travellers. Best way to pick the perfect match for your friends is to think about them and what type of explorers they are. Are they digital nomads practical and efficient or more sophisticated and sentimental? Are they an adventurous couple or more for a cosy gateway in a comfy place?
We browse the net and went to snitch some inspirations from the finest wedding shops. Here below the result.
Personalised passport holder
Classy, elegant and always updated a custom passport holder is good choice. This gifts for travellers can be available in multiple colors, materials and patters. Is always cool to show off your passports in a custom case
Scratch off map
Terrific gift for those couples who like to keep track of the places they have already visited. For a final lovely touch, add a simple frame with their initials.
Luggage tags
Made with leather and these types of gifts monogrammed, or more romantic and wedding related with hers, his and ours printing, with these types of gifts for travellers you can't never go wrong. For intensive travellers' luggage tags are never enough. They are more than a luxury: they are a basic need.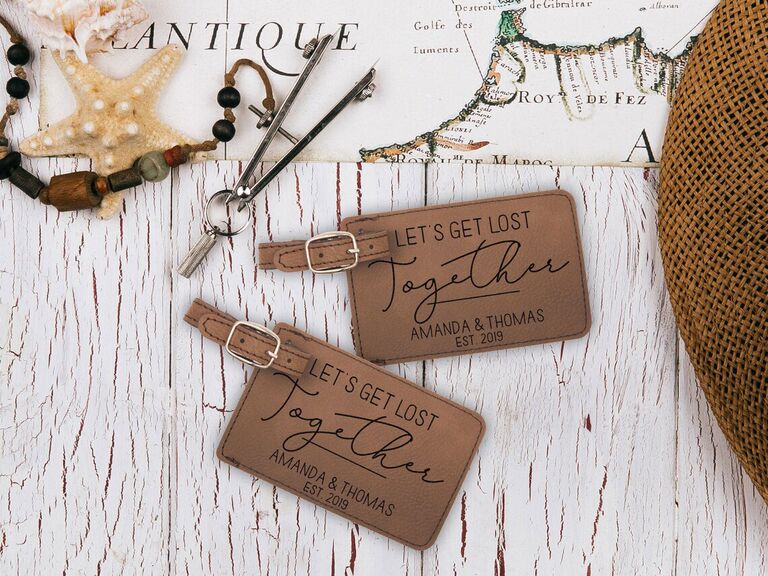 the knot
Gifts for travellers: hammocks.
Hammocks are a little throw back of memories when we were kids. These gifts for travellers are perfect for adventurous duos or for digital nomads. You can find a multitude of  versions of hammocks. From the portable ones to a more refined models hand made in macrame.
ph: fortune
Gourmand gifts for travellers: artisan home delicacies
Are the newly weds moving away for a long time or the plan to go and live in another city? Buy something that will remember home. You can also buy a subscription for regular shipments.
ph: fortune
Tech gear case
iPad, cell phones, laptops and all the tech toys are an essential for travellers. Protect them is mandatory in particular during adventurous trips. Repair or buy new electronic stuff in some cases can be very tricky.
brides
Carry on sets
For these gifts for travellers prefer those models that are functional. The main characteristics will need to be: ultra-lightweight, telescope handles and with spinning wheels. Nowadays all the luggage has locks but remember to double check. The newlyweds will simply love you for this gift.
In-Flight travel kit
For those who likes to travel comfy or for that people that pick very war away journey kits to survive at the flight are a great option. To rest is important to get ready to explore the final destination.
Gifts for travellers: portable cocktail kit
We are crazy for portable kits. Among all the gifts for travellers this is truly one of our favourites. We love the idea of having your favourite cocktail always with you.
Portable speakers
Let's dance baby and why not doing it on the other side of the world? Portable speakers are an easy way to have always with you your favourite music. Remember to pick an ultra-lightweight model with a protective case. you don't want your friends to pay for extra weight luggage.
Hotel gift card
Quite often people who likes to travel have already all the necessary equipment. So why not buy a gift card? Get information from a member of the bridal party or from the family about the places that the couple has in their bucket list and but a hotel gift card.
Packing cubes
We personally love this kind of personally gifts for travellers. If the duo is a multi-travel all at ones is incredibly practical. They can pack each cube specifically for the destination they are heading next. In this way they will always know where to find what they need for their next adevnture.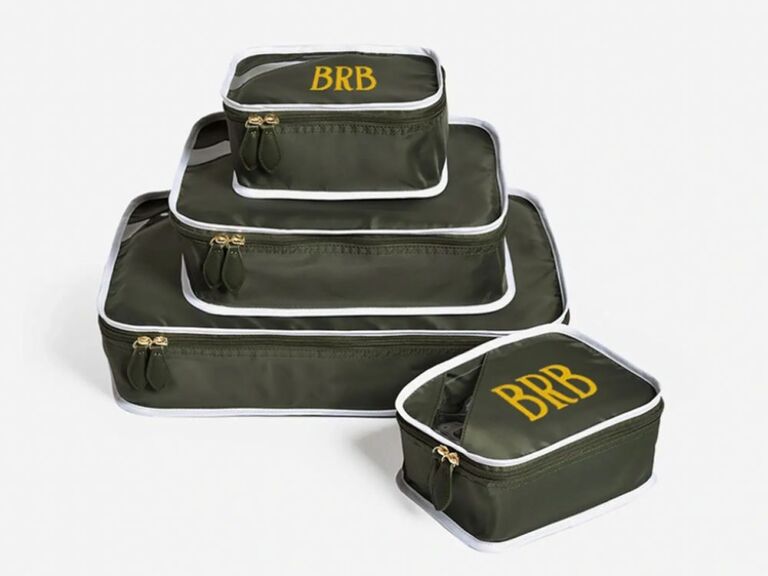 the knot
When you are invited to a destination wedding, you should expect that ten bride and groom are a duo who likes travelling. So, we hope you enjoyed all the inspo above. Happy shopping. For any further information don't hesitate to contact us!