11 Dic

Engagement Photo Outfits
Ideas for the perfect Engagement Photo Outfits
Nowadays more and more couple decide to book an engagement session. Multiple reasons drive couples to this decision. For instance, the main one, is the chance to meet their photographer before the wedding day. This will establish a connection with him or her. Furthermore, for some shy couples, is a way to feel more relax and conformable in front of the camera.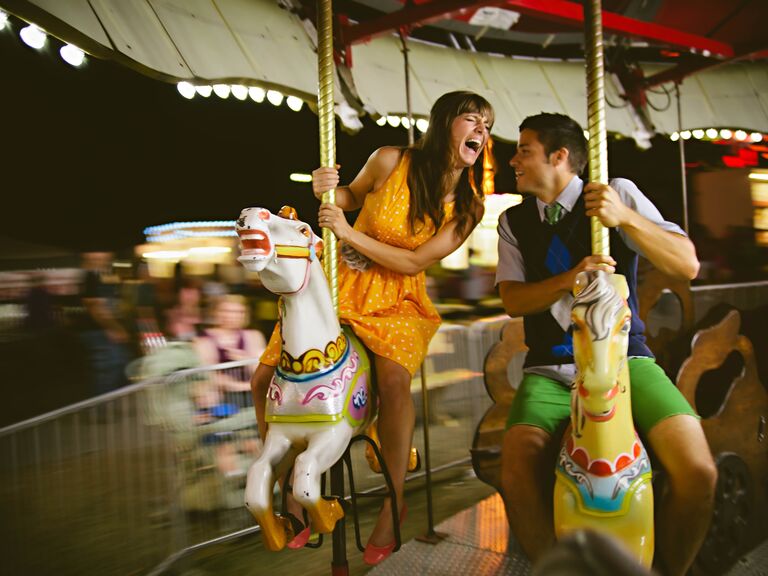 Don't forget that you can also use the engagement photos for the invitations, wedding website to thank you card. The hard question is what to wear? Follow our tips for your Engagement Photo Outfits and get the best from your photo session.
General tips for your Engagement Photo Outfits
First of all, don't postpone the decision of what to wear until the day before. Plan it in advance. This will give you the time to check and try, all the clothes combination and the pieces that go together you like. Don't be too formal. An engagement session is a fun moment, a laidback time focus on the cosy sentiments between the two of you. Decide where and what you want to do.
For this point you can rely on the advices of your photographer. A professional will know all the hidden spots and the romantic places. Bring with you at least two outfits, one casual and one more dressy.
Colors
The colors you will decide to wear will be an important part of the result. They will mainly depend on the location chosen for the photo shooting. If you are taking pictures with a dark scenario, such as a wood or an old factory, you can use bright colors, such as reds, yellow, greens.
They will bright up the overall result. For a more romantic look wear something that complements your backdrop. Ask to the photographer to send some images of the place where he will bring you. Use them to compare the different shades and see how they work with it.
Think also about how to coordinate accessories, from necklace to bags and shoes. They can be of the same hues or stand completely against the main color of your outfit.
Ideas for a summer and spring photo session
Engagement Photo Outfits for summer and spring should be light and refresh, reflecting the season. Try some floral patter for a cherish up the atmosphere. You can also use a pair of jeans and a floral blouse. Ask to your fiancé to wear something matching. This year are much in vogue colored socks. If you feel more one color person, try on a yellow or green dress. Bright color really stand out in pictures. Wearing flat shoes with a glam detail such as crystals decorations will add a sparkle to the overall look.
A simple shape dress or a nautical look are perfect for beach or outdoor session. Navy blue is perfect by the sea, pair it with a light color such as white or ivory. Consider to go bare foot if your backdrop is the beach. It feels so good to have sand between your toes. Wear red nail polish to add a twist to the overall look.
Tips for a fall and winter Engagement Photo Wardrobe Ideas
To shimmer a bit the colder months, use fun accessories, such as scarfs, hats, blankets and gloves. This time of the year colors tend to be warmer and less crisp. Mix and match different patterns and textures – but don't exaggerate. Orange, brown, light rend and deep green are perfect for this time of the year. Don't be afraid to wear also some sequin tops, if combined with black or pale pink. Use pea coats.
They look glamorous but not too formal. They reflect the warm atmosphere and are one extra piece that can be used in photos. Wear a heavy wool long dress with high boots and choose a scarf to coordinate with your Partner. A look in between, not too formal but not too relaxed is one tone jumpsuit. The final touch is to pair it with bold colors' accessories.
Moreover, don't be afraid to try different outfit and to use different accessories. Express your personal style and set the mood of the day. The most important tip is that there are not set rules. Wear what makes you feel comfortable and enjoy the day!
Do you want more tips wedding related? Follow our blog or contact us!