14 Mag

Gowns trends: glimmering wedding dress designers.
10 new wedding dress designers you need to know
During this pandemic is not easy to think about what is going to follow. Being an event and destination wedding planner, I'm more inclined to see a brighter future. I love to be surrounded by beauty and creativity.
I think they lead to positive thinking and positive thinking allows us to have a better approach to this very strange period in which we are living. As a trend scouter, I'm constantly searching for new visions and new inspirations.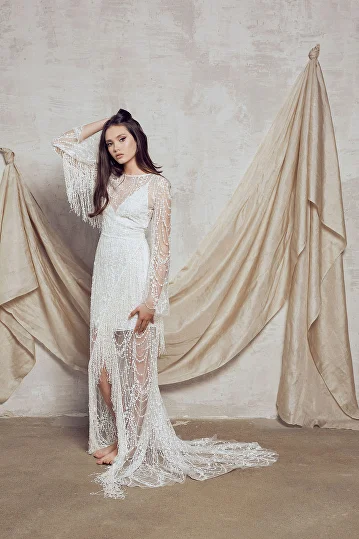 I decided to give a twist to monotony and focus on a modern bride looking for something unexpected and new compared to the classical silhouettes. Enjoy my selection of the best-off beat wedding dress designers. You definitively need to check them if you are looking for fresh and cool match for your big day.  
Jurgita Bridal
A fresh and boho inspired approach are the distinctive points of this Lithuanian designer. Jurgita offers to modern brides a different point of view, focused on soft lines, a natural approach and feminine touches. All the final touches are hand added. Always updated about new trends her collections are never boring. She is definitively one of the wedding designers to keep an eye on.
Lena Medoyeff
Lena Medoyeff presents a non-conformist approach to a modern bridal style. Her versatile design creates clean lines and soft touches that turn into comfortable shirt dresses and unique models inspired to Greek goodness with sexy details. Lena's wedding gowns are characterised by modern and minimalist lines merged with non-traditional design elements. These wedding dresses are perfect for a contemporary bride.  This wedding designer plays with silk, cotton with an old fashion approach to the production.
Emily Kotarski Bridal
With a positive approach this wedding designer produces one of a kind wedding gowns for romantic and dreamy brides to be. These charming models are amplified with stunning details, like flutter sleeves, eye-catching shoulder bows, flowers motifs on the ball gowns. Focused on reaching perfection, Emily, personally creates and oversees each detail of the dresses.
Ahmed Alkhyeli
Khyeli is a wedding gown brand created by Ahmed Alkhyeli. Inspired to a contemporary bride with a strong sense of her femininity.  Ahmed creations combine grace with simplicity that enhances the vision of a powerful woman. This bridal stylist presents wedding dresses with memorable details, uncommon cuts and fine embroideries driven to create unique models for unique brides.
Phillipa Lepley
Phillipa Lepley wedding dresses are delicate and feminine, made with graceful materials like satin organza, silk tulle and corded lace. Rich embroideries finely curated add a timeless and elegant feeling to Philippa's creations. Each creation is special and unique and designed to perfectly fit any type of body. A variety of handcrafted details provide an exquisite final touch to these amazing wedding gowns, able to satisfy each individual client.
The Law Bridal
Based on a fresh and original vision, the Law Bridal's creations express a design based on modern structured lines combined with soft flows. Reflecting an essential bride, looking for something modern and out of the schemes, this wedding dress designers designs amazing gowns with a glamourous minimalism. Thought also to provide a completely bespoke service to hesitant brides, the Law Bridal created a collection made of separate pieces that can be styled together.
Elizabeth Fillmore bridal
Focused on brides with an independent vision and with a clean femininity, Elizabeth Fillmore creates unique pieces infused of bohemian accents, sexy details and whimsical touches. This wedding designer has a sophisticated approach to the style of each wedding gown, combining simplicity and effortless elegance. Elizabeth Fillmore is famous for her collections of super charming slip dresses.
Dana Harel
Dana Harel has a unique approach to wedding gown designs. Sophistication, attention to details, use of uncommon materials are her distinctive points. In Dana's vision, each woman is unique and has a powerful and feminine personality. Wedding gowns made with avant-garde materials and details, like lace embroideries, leather and appliques of Swarovski crystals and crystal beading, embodies the style of a fashion forward bride looking for a special attire to rock during her wedding day.
Valentine Avoh
Inspired by the golden age of cinema, Valentine Avoh's collections reflect a bride that wants to underline her femininity with simplicity and glamour. Intimate luxury with a discreet elegance is the starting points of the creation process of each gown. Constantly searching for quality materials and fine details, Valentine's wedding gowns have high realisation standard. Each piece is created in her Haute Couture studio in Bruxelles.
Prea James
Famous for her liquid gowns, this famous fashion forward wedding designer realises wedding dresses for a modern and relaxed bride. Prea James offers models with pure simplicity with a strong personality.  Uncommon geometrical cuts, modern silhouettes, skirts and tops that can mix and matched provide unique touches to Prea James's creations.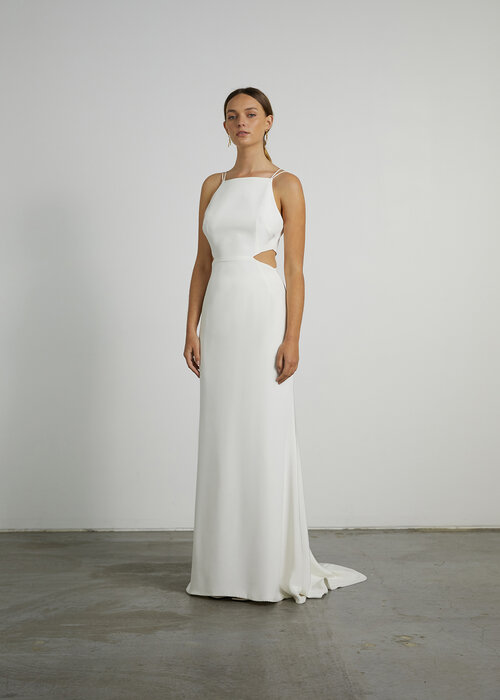 I hope you enjoyed this first selection of wedding dress designers you can't miss. Stay tuned for more inspo!