01 Ott

Halloween wedding inspirations
Creative ideas for a Halloween wedding
Have you ever thought about a Halloween wedding? As a wedding theme is not for everyone, but if you are that kind of couple, it will be deadly amazing.
With this extravagant theme, don't be boring and don't focus only on the orange and black combo and on traditional Halloween centrepieces be creative. With a Halloween wedding you can create a super stylish wedding décor and a tasteful wedding celebration without being overly macabre. Stay away from the tacky stuff and make a big impact on your guests.
ph: ruffledblog
They will be trilled to join your party craving for more trick or threat. Get inspiration from movies like Sleepy Hallow or from the classic's dark books. Even the smallest ideas can make the biggest impact. We haunted beautify Halloween wedding ideas and we craving to share them with. Don't be too scared LOL!
ph: countryliving
A Historic haunted Venue
Venues play a key role in events. Mostly if you are going for a Halloween wedding the venue will emphasize the theme.  Places with old-world feel, ruins and touches of gothic glamour are a perfect choice. Bonus point: a courtyard or overgrown garden or landscape will add even more charisma at the day.
The right attire for a Halloween wedding
If white is not your color this is undoubtedly the perfect occasion to wear dark tones. If a black wedding dress seems to much, go for an ice grey gown combined with a dark green cape or a deep blue wedding attire. For a more romantic twist go for a tulle skirt with a black lace corset.
ph: ruffledblog
Moreover, for the groom there are many ways to add a stylish touch. A velvet burgundy jacket or a baroque pattern for the suit.
Gothic Stationery
There is no wedding without stationary. Avoid any design with a direct reference to this festivity and opt for something with lighter accents to the mood that Halloween express: you don't need to overwhelm your guests and bombard them with pumpkins, skulls or ghosts.
ph: ruffledblog
Black or dark hues and gothic inspirations, will provide charm and sophistication without being too excessive.
Scary accessories
Why not use skull's cufflinks matching them with the handkerchief for the groom's accessories. A smoky quartz crystal crown will be perfect for the perfect mysterious bride.  
 ph: countryliving
For the table skull-shaped candle holders will infuse the table with a sophisticated Halloween charm without being creepy. Mixing dark table runner with brass or clear candlestick. Add more drama with a merlot and gold tableware mixed with dark greens and grey accessories.
The right lighting
To create a spooky atmosphere there is nothing better than invest in lighting. Hanging installations, chandeliers, twinkle lights combine with falling Spanish moss and greenery will add charm and spectral atmosphere to any wedding dinner. To add a ghostly vibe, use smoke bombs for the entrance of the bride and groom.
Consider dark hues for flowers
Deep reds, dusty pinks, mauve and burgundy hues combined with grey and brown foliage will set the point.
ph: ruffledblog
Use wild design for the centrepieces and loose shapes. Table's size permitting bold and oversize décor is a win win choice. If you feel brave enough, incorporate some dried flowers, they will add a glowing touch. Top tip: match the bouquet with the same color scheme of the table.
Glamour side of a Halloween wedding.
Alluring and charming, the white color is perfect to interpret in a glamorous way and give a special touch at your Halloween wedding. Use white pumpkins with woods and foliage for decorations and a and harvest-inspired florals for the table. Top tip: combine this wedding palette with the gold and pastel orange for a refined and classy outcome.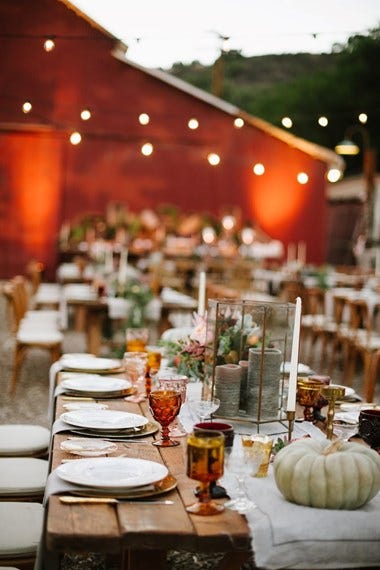 ph: countryliving
Pick the right cake
Halloween weddings deserve a special attention when it comes to the dessert. Not necessarily it has to include a specific wedding design. You can get inspired by nature, such amethyst for a geode inspired cake for a more classical look or play with geometric patterns and shapes.
For a romantic touch, a watercolour galaxy inspired cake will make the statement Let's say it, there is no Halloween wedding without a spectacular sweet tooth.
ph: ruffledblog
We hope you enjoyed this little scary guide to throw the perfect Halloween wedding and don't forget to say "I boo"! For more inspo don't hesitate to contact us!