04 Set

September wedding flowers
Burst your wedding day with September wedding flowers
When it comes to florals, there no a great month as September. On the edges of summer and at the door of fall, September is a month in between two seasons, it offers a little bit of everything. Unless you are looking for a specific type of bloom, seasonal flowers work always well for weddings. with September wedding flowers you can play with many colors. Your wedding color palette can go from the Dusty Blue and Yellow to the Dusty Rose and Burgundy.
ph: colorsbridesmaid
There are so many flowers to choose from and seasonal flowers will give to your wedding day a sense of organic and natural beauty. Here below just a little guide to the most popular September wedding flowers
Roses
There are so many varieties of roses, so different from each other in shape, size and shades. In September you will have a full bloom of this particular flower. Roses are considered symbol of beauty and love for a reason, they are incredibily romantic and glamorous. Spray roses and garden roses  alexandrafarms are our favourite one!
ph:Dream Designs Florist
ph: alexandrafarms
Lisianthus
The romantic simplicity of this  blossom makes it one of the best September wedding flowers. Lisianthus can be used in many different ways, the perfect start of a rustic set up or a component of an elegant centrepiece. It come in only three shades: white, purple and pink but with many hues.
ph: Mimosa flower studio
Delphinium
This flowers is ideal for garden weddings (link to marika), its towering spires and clustered florets adds height to table's compostions and a wild touch to bouquets. It comes in the shades of light blue, deep purple, white and pink.
ph: rockmywedding

ph: ladybugblooms
Astilbe
Astilbe will give to your wedding flowers that little movement that makes everything so fresh and perfect. It is maily used as a filler flower, because of its shape. Astilbe has cluster of tiny and small little flowers that give to this flower a fluffy aspect that is perfect to add volume to florals.It works also by itself if used in mixes of bottles and jars and paired with flowers such English roses.
ph: stylemepretty
Alstroemeria
A stand-out beauty that comes in many shades. It is one of the many September wedding flowers that is possible to use for décor and bouquet both. The colors of astromeria go from the deep purple to the true white. The main characteristic of this flower is the flecked throat, that makes a contrast with the colour of the petal that is never boring. Sometimes is also called Peruvian Lily.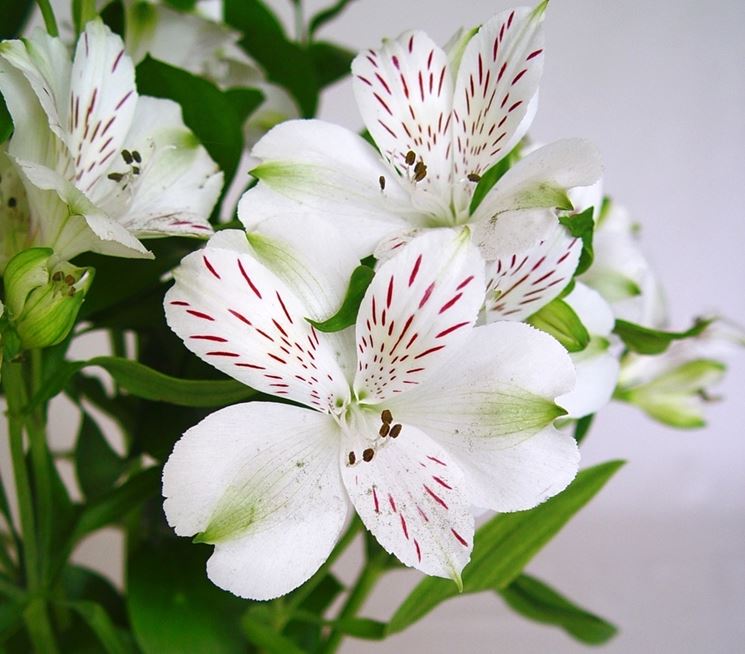 Ph: giardinaggio
Bouvardia
Bouvardia's flower is composed by clusters of small star shaped petals, coming from a green stem. The most popular color of this September flower is white. The shade of reds is a little bit too strong to be used in wedding flowers but the pink and the peach hues are perfect for fleshing out a little your palette.
Ph: marthastewartwedding
Hydrangea
Hydrangea most popular September wedding flowers. The bloom reminds a snowball (as sometimes is also called when is used in white). They are one of the best flowers for wedding florals. Long lasting and size are the main characteristics of Hydrangea. Perfect in jars for the ceremony or in vases at the centre of tables with votives and candles.
Ph: flowerforweddings
Dahlia
Dahlias are famous for theirs bushy and bold flowers. Originally found in the Americas they were imported in Europe from the first Spanish conquistadors. This flowers is sophisticated and suitable for those floral arrangements with an air of elegance. It comes in a wide range of shades and varieties. Dahlia is for sure a flower to take in consideration.
Ph: brides
Ph lovenfreshflowers
Bridal flowers
In terms of your bouquet, might be surprised by the brilliant touch that the shades of this flowers will give to your bouquet. Roses are so romantic for bridal flowers and buttonhole both, they have so many hues that are able to match any type of suit.
The delicate aspect of Bouvardia is ideal to give a twist to a classic bouquet without being extravagant.  Hydrangeas are simply perfect for a simple stunning bridal bouquet.

ph: theknot
If you want something delicate with a great effect Astilbe is the perfect choice. The pink tones are delicate and adapt for a romantic wedding but in the shades of white is perfect as a filler flower for something more elegant.
Brides that are looking for a consistent volume, dahlias are amazing in big size bouquets. The bell-shaped flower, lisitanthus, is the perfect complement for wild bouquets.
For all the floral decoration you have in mind, you will find a perfect match in September wedding flowers.