09 Lug

Small Wedding Cakes
15 small wedding cakes that make the scene
Small doesn't mean underestimated. Small wedding cakes can really make a bold presence at your wedding day.  If your plans are changed due to covid and your wedding turned into a micro wedding or if you are having a cake just for the cutting, small sizes can be an eye-catching idea as a standard wedding cake. All weddings deserve a sweet ending and tiny cakes, can reflect your style and be as personal as you always dreamed.
To help you with the design process and the aesthetics finishing we rounded up some of our favourite cakes. We hope they will as sweet for you as they are for us.
Add flowers to it
Flowers are always triggering and at the same time a successful way to upgrade a cake. Cakes can be adorned and styled in multiple ways, with sugar flowers, pressed flower or real flower. To get the best from florals decors, place the cake on a stand or have a two- or three-layer cake. Even if the cake is of a smaller size, doesn't meat that it has to be on a single tier.
If you are the romantic type of person, frame a love message or a quote into flower. It looks so fresh and delicate.
Fresh roses and peonies, big or small flowers, with greenery or cascading vines will ad glamour and movement to any sweet bite. You can also decide to use the same blooms of your ceremony or bouquet florals.
Go for a unique big piece on top grab attention and it will make the cake look bigger. Top tip to make it memorable: add some fruits or berries, like cherries, figs, baby pomegranate or kumquats.
Pressed flowers are perfect to give to small wedding cakes an aethereal look. They are gentle and graceful. Bonus point: you use pressed flowers to recreate bucolic designs on the cake
Simple small wedding cakes
Who says that a cake has to be fully decorated and with a multitude of accessories around and on top? In some cases, less is better. A one tier cake with a delicate and soft decoration.
A perfect solution is to opt for a buttercream frosting with a ripple design. Use some flower on top or at the side to add movement and romance.
Contemporary cakes, with clean lines and few color accents just hit the goal. Incorporate some gold or silver color, some!
Small minimalist naked wedding cakes are perfect for a micro wedding or an intimate affair. Pair it with a nice stand with the same hues of your wedding colour palette. (Brides 17)
Use a cake topper. A plain white frosted cake can go with any type of cake topper. The are perfect to enhance the simplicity of small wedding cakes without overdo.
Top tip: invest in the table not in the cake. Use a creative and elaborate display to show your simple cake. This will add a glamour and a wow factor to the cut of the cake moment.
Monochromatic or colors
Cakes can focus on one single color, like white, gold, green or be painted with a multitude of shades and hues like the stained-glass window.
For a full white wedding, the perfect complement is a pure white small cake. Just add a couple of flower and here you go with the perfect monochromatic effect.
Surprise your guests with monochromatic coloured cake. Offer them a pink infused experience with this frosted cake.
Combine color and monochromatic influence. Pick a cake with two tiers, the top one white and the lower in a neutral color. Bonus point: to add elegance and underline the separation of the two colors, use a pearl decoration between the layers.
Get the best from colors! Incorporate and match complementary or contrasting shades to create a spectacular effect or go with funfetti cake.
Small wedding cakes with designs
Designs are able to provide a different twist to any small wedding cake. They are suitable for any type of wedding and can be personalised in multiple ways.
Antoinette inspired cake. This is a true beauty that you don't see every day. The creative design of this sweet bite is complex, elegant and stunning at the same time.
Gems and stones engraved in the cake are the perfect match for a boho or indie wedding inspired. This type of small wedding cakes is above and beyond of all expectations.
Like modern pieces of art, this cake looks like a sculptured carved out from marble. The fine decoration combined with the aesthetic provide a glamorous and elegant result.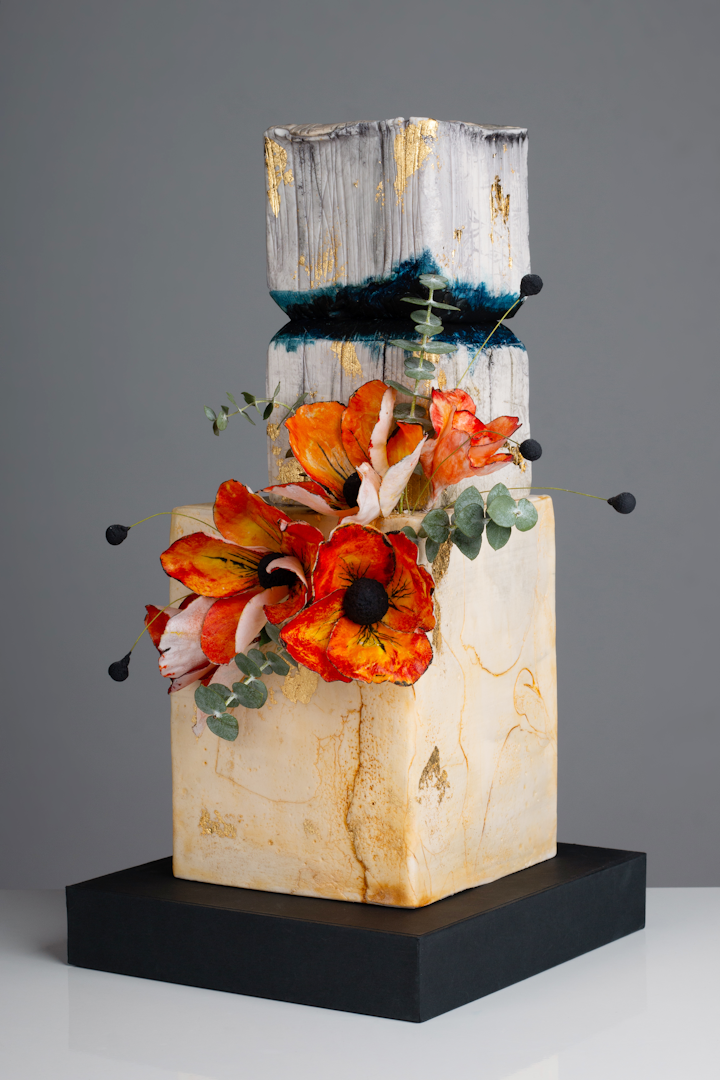 Architectural decors are perfect for small wedding cakes. They can be geometric or art deco inspired. Bonus: get matching wedding favours to let your guests bring home a piece of your cake.
Still undecided about what you like? Do a dessert table with multiple kinds of cake and enjoy a cake tasting' stile dessert moment.