05 Mar

Spring wedding flowers
The importance of choosing the right spring wedding flowers
Spring symbolises the new beginnings and the blossoming of new things after the cold winter season. For sure springtime is the best time of the year for flowers and weddings. beside the good weather, there is a great variety. It's the peak season for blossoming and growing of amazing spring wedding flowers.
From the hottest colors to the pastel shades, spring flowers, have an appealing mix of textures and shades. A bonus, is that spring flowers come in multiple colors, so you can use the same flowers in all their different tones. Moreover, using seasonal flowers, will provide a better quality and it is good for environment.
Having the right flowers at the wedding can really make the difference! Here below a list of the spring wedding flowers we love most.
Magnolia
Is a quite unusual flower for weddings, but its elegance and refined look can add a twist to a gentle and elegant bridal look. It comes in pastel shades but in different sizes and you can decide how much and how big you want to use of this flower. More and more often magnolia is used to decorate wedding stylish cakes, but trust us, add some blossom to your bouquet or to the centrepiece for a superb effect.
Ranunculus
Early spring wedding flowers by definition, these dainty little flowers come in multiples hues. Ranunculus go from brilliant to pastel colors. With their layered, paper-thin petals add romance and delicate accents to table compositions and bridal bouquets.
If you are looking for a feminine look, pair them with some greenery, gardenias, anemones and peonies. The outcome will be exquisite. You can also consider to use this flowers solo, in the buttonholes or for a delicate hairpiece.
Sweet peas
So many brides love sweat peas, their blooms are dainty, romantic and fragrant. On the pale shades, such as white, cream and pastel yellow are a top choice for an elegant affair. they match perfectly with orchids and will elevate your wedding décor to the next level. Sweat peas come also in stronger shades, pretty pinks, coral, purples, from very deep tones to more delicate hues. In this case, they can be use by themselves or with a bunch of other flowers for a more rustic and fresh harvest effect.
Anemones
The natural contrast between the dark centre and the delicate petals makes for sure a visual contrast. Anemone is an extremely elegant and super flower, that can turn a simple table into a graceful element.
It is associate to modern weddings in its most common color, the white. In case you are planning to have a colorful wedding anemone are still the perfect spring wedding flowers. They also come in many shades, red, pink, purple and even blue.
Peonies
We do personally love peonies. With their big bloom they have so much character. Perfect for lavish affair, but not only, they are an insanely stunning wedding flower.
Their meaning is happy life and good health, so is not surprising that they are one of the most requested choices from couples. For a more conservative look, opt for the golf ball, this means when the peonies are in a tight, closed bloom. In this shape they are perfect for a mono flower bouquet.
Use the open peonies to decorate the cake or to mix and match them, with lisianthus, English roses, roses and any type of greenery for centrepieces and bride bouquet. With their wide choice of hues, peonies are able to accommodate any color scheme.
Hellebores
With a deep green stem and leaves and different tones, hellebores are perfect for any wedding. Hellebores are not the super common wedding flower, but they have a lot to offer.
They work perfectly in big and loose centrepieces or wild shape bouquet, naturally they tend to drop and will add a sensational dramatic effect to any composition. These flowers, can fit any color scheme, since their color range from the light shades of yellow and white to the deep wine or purple. Also, they have a lighter hue such as mauve, pink and antique green.
Daisies
Honestly? Daisies will rock your wedding. With their bush of small flowers that creates a delicate volume, they have a fresh and crispy look perfect for a springtime wedding.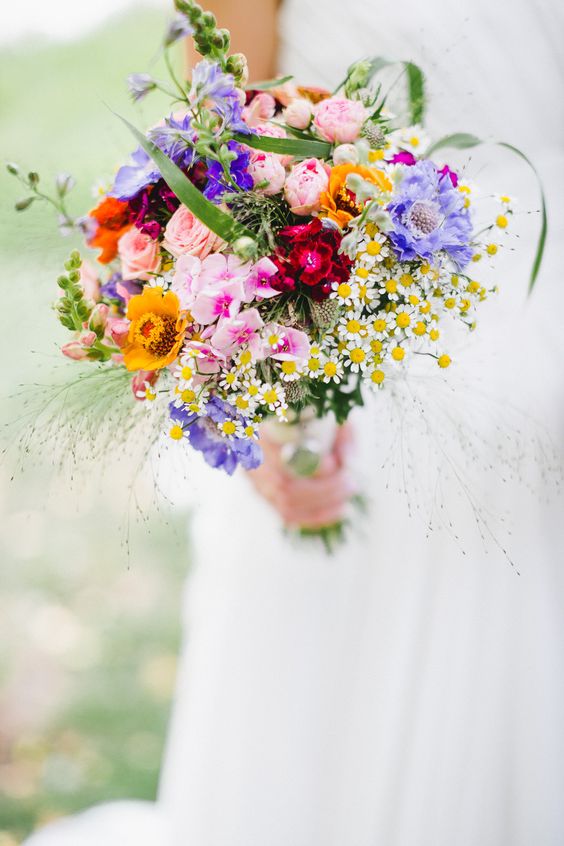 Depending on the way they are combined, they can be the perfect match for all types of event. For a boho inspired themed wedding, use them in a wild flowers crown and in your bouquet mixed with greenery and dark flowers.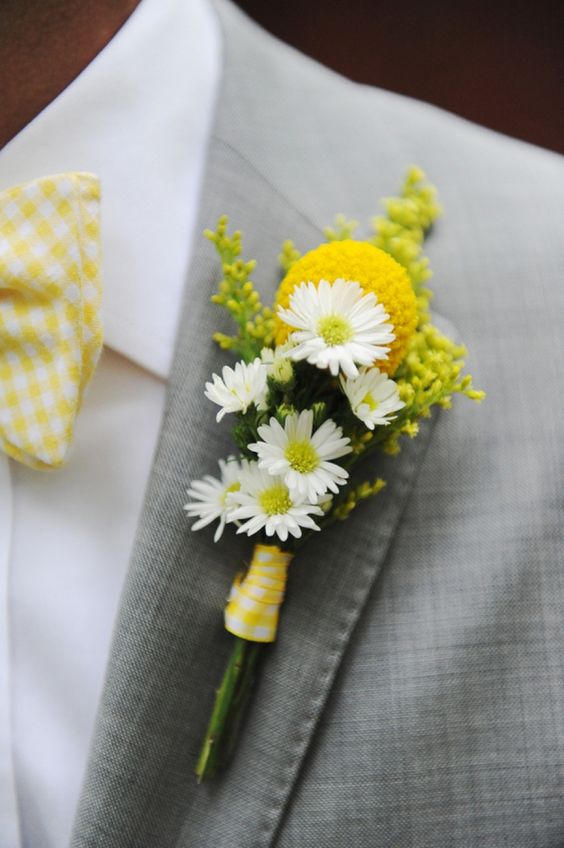 Having a more refined wedding reception? mix them with eucalyptus, white peonies and ranunculus, they are also perfect for rustic buttonholes mixed with lavender or craspedia.
Cherry blossoms.
Cherry blossoms are a true symbol of spring, from Japan to the nannies for children and the common thoughts. They are a quite unusual wedding flower, but they do make the point.
The delicate pale pink and the reddish branches have an exotic character that captivates the eye. They look stunning in high decorations, for the ceremony, the table or the photo booth, for the escort card display. Don't forget that they are extremely attractive in bridal bouquets as well.
Of course, this is only a small selection of spring wedding flowers. If you need any help to incorporate a flower in your design or to how to find the perfect style for your wedding day, contact us!