21 Ago

The best bridal shapewear for your dress
Why is the right bridal shapewear so important?
The right lingerie is the key to the perfect fit of your gorgeous gown. Almost all brides wear undergarments. There are multiple types of bridal shapewear, you need to have something that works perfectly with the shape and intricacies of your wedding dress.  Underwear can be your best friend and your worst enemy. Each dress has a different shape and a different material and it is really important to consider those aspect while choosing your bridal shapewear.
ph: prettylittlething
Fabric and bridal shapewear
If you have in your dreams a ballgown wedding dress you can skip the undergarments and wear whatever underwear you like. This type of gowns are made of heavier silks and textured fabrics that add structure and often they also have built-in corset for extra support. Simple cotton is a good choice or find more inspiration in our magic wedding lingerie top tips. If you are wearing a dress made with lighter silk fabric, sheer or nude materials bridal shapewear is a must have. Those type of gowns underline every visible panty line.
ph: spanx
Mermaid & Trumpet wedding gowns
This type of wedding dresses are flattering and underline your curves from the chest until the mid thigh. A high-waisted bridal shapewear can help to create a gorgeous silhouette and to smooth and pull in the lower stomach. This models of undergarments,  help to define your body and have that sexy look. They will help to contour and define your figure, like Tulle shapewear dress  or the Miraclesuit . Look for one with either boy shorts or a thong bottom to ensure a seamless finish.
ph: matchesfashion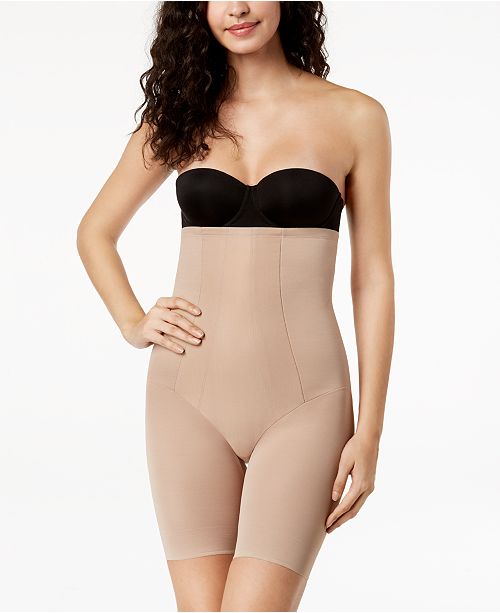 ph: macys
One Shoulder or classic strapless neckline dresses
The designs of this dresses allowed multiple options. With strapless or one shoulder gown you need to be sure that you bust is well supported. If the fabric of the dress allows it you can have a strapless bra sew directly in the bodice. If not, opt for something that creates a seamless support.  Before make any choices in terms of underwear focus on which part of your body you want to underline. If you need help with your waist a good option is to wear a slimming bridal shapewear.
ph: shapermint
If you need a strong support for your bust you can source a corset or bustier.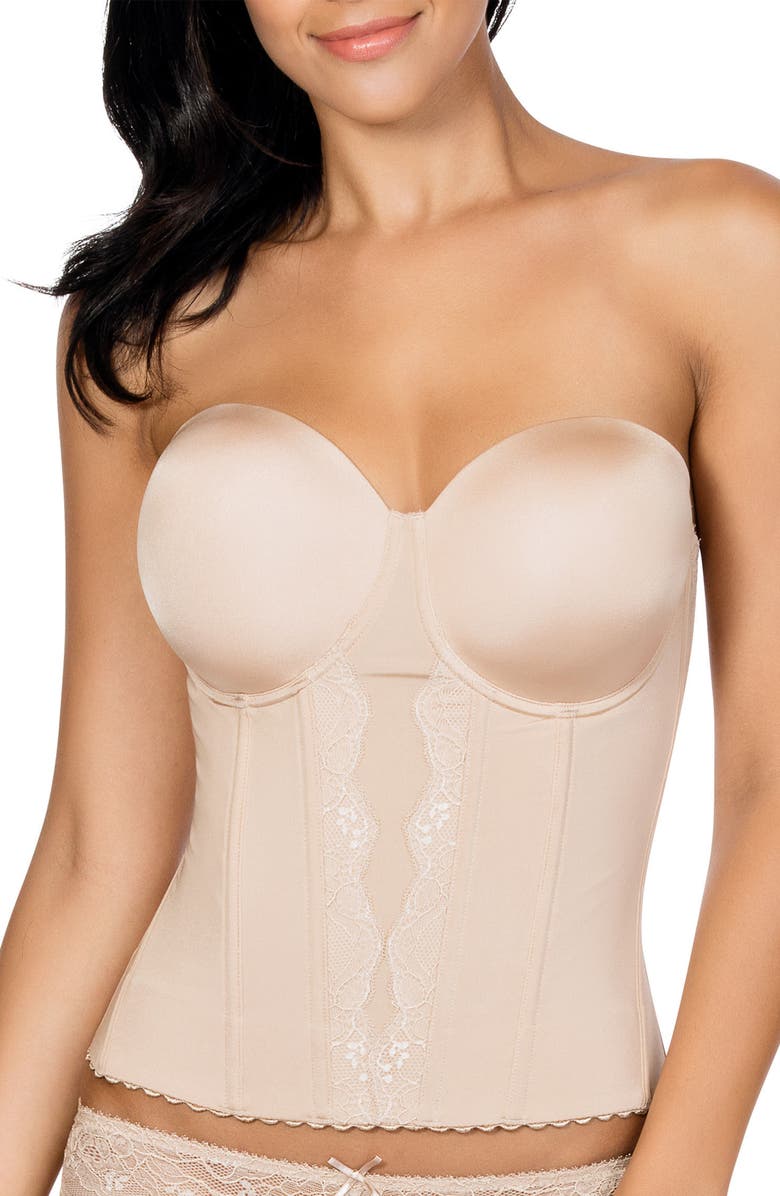 ph: nordstrom
Backless silhouettes
Backless wedding dresses are becoming very popular and they come in different designs. The lack of front support is the main characteristic of this dresses. In case you need some support, you should opt for a customised bustier or a bodysuit without the back. Such as the Low-Back Mid-Thigh Bodysuit or MIA BACKLESS BODYSUIT WITH PLUNGE BRA IN JACQUARD MESH if you want something more fancy.
ph: enderlegard
This type of bodywear is ideal for a dress with an open back and at the same time if your body is a fuller chest. The other option, if you need less support and you don't have an area that you smooth or accentuate what you need is a bra that has adhesive cups. Silicone cups are invisible and they provide a natural feel so they are very easy to wear.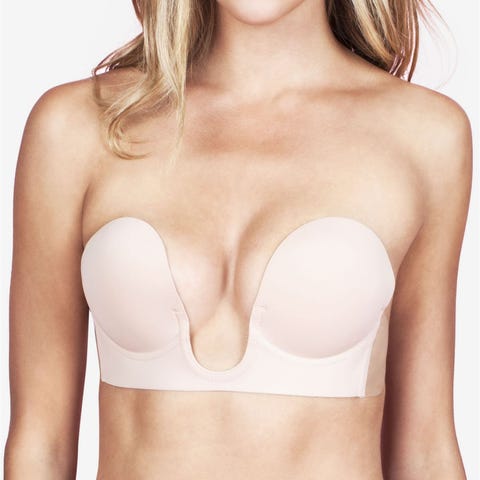 ph: macys
Always remember to buy your bridal shapewear in advance and bring it with to the last appointments. Normally, is suggested to buy underwear after the first fitting. In this way you will have enough time to select the right model that suits you and your dress.
ph: net-a-porter
Be sure you feel comfortable with it. In terms of colour, opt for something that matches your dress, so it will not be visible under the fabric.