29 Gen

Throw a Post Elopement Party
How to plan your post elopement party
Some couples envision their wedding as small and intimate affair, more often as a romantic elopement somewhere around the world. At the same time, they do also want to share their emotions and dream a party to celebrate their love with family and friends.
Possibly not a big affair but a relaxed and full of fun post elopement party. To plan a post elopement party is a chance to not give up a celebration but at the same time to tie the knot privately. There aren't rules or etiquettes that you have to follow to plan a reception afterwards. Check out our tips and focus on having fun!
When to do it.
The answer is very simple, when you want! Some couples prefer to do it straight away after their honeymoon, some others prefer to wait few months, in some cases the date is the wedding anniversary. In general, a suggested time is within the four months to the wedding, to keep the festivities going.
The announcement: be super clear with your guests. When sending out the invites, notify them that you are already married, if they don't know already and this is a post wedding celebration.  There are cute ideas that you can use such as "Surprise! We eloped. Join us to celebrate our marriage".
Take in consideration that some people may not come or are unhappy about not being invited to the real day. Pass it over and don't get your happiness ruined by this negative vibe. Invites don't have to be too formal, instead of the classic layout, opt for something different and out of the schemes. You can use a funny picture of your elopement, a poster from a movie or a different card with a couple of personal lines for each guest.
Don't expect gifts from people. You are already married and this is not a wedding party, but a reason to celebrate your love with the people you care most. In case someone brings gifts – and it happens – be consider a box for cards and a table where to put presents. Most importantly: don't forget to write a thank you card!
What kind of post elopement party?
Reception can include different type of things, from a formal sit-down dinner to a very informal cocktail. The tip in this case is do what you want to do.
It can be as informal as a backyard party, with wooden tables and buffet service, a garden party, a pool BBQ or a dinner in a restaurant hall with a Michelin stars dinner. In general, do what you envision, that fits best your style and makes you happy.
They size of the party is it at your choice. You can decide to invite everyone or to select just a few crews of people. For the guests list, consider the same people you would have invited for the wedding. if the guest's count seems to big, start with immediate family and close friends.
How to through an afterward celebration.
Include your photos in the post elopement reception. It is a way to include everyone in your fantastic experience the guests will enjoy to know more about your elopement. You can prepare a photo album or use them in your wedding stationary They can be already inside a signing guests' book, scattered around on table with a sign the back of the menu, or used in the table chart.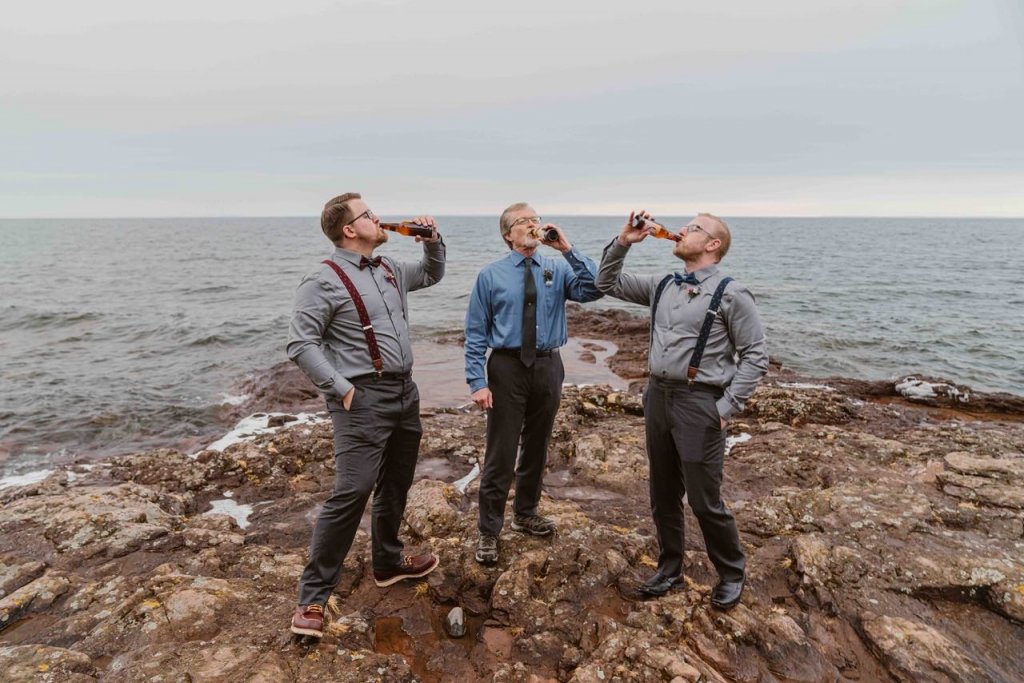 Hire a band! Live music is always nice and it will be fun to dance all together. You can also decide to have a first dance a certain point.
Attire, what a dilemma. While for the groom the choice is pretty easy, for a bride this can turn into a stressful decision. As a general suggestion, to keep the I'm the bride feeling, wear something white. If the party is informal, a short dress or a modern jumpsuit. A lace boho dress would be perfect for a BBQ. If you are hosting something classier, a silk slip dress or a v neck long dress. if white is not your color, but you still want to stay on the classic side of the hues, choose the blush tones of the pink.
Last but not least, hire a professional. It is true that post elopement celebrations are not weddings, but they still involve a lot of work to do. The help of a pro is always a plus to alleviate the stress and do things enjoying them.
Are you ready to throw your post elopement party? Contac us today!
ph: Sebastian David Bonacchi, Studio Bonon, Lovefolio, Andrea Sampoli, Pure white, Rellini Ph, Serena Cevenini.