23 Lug

Top Wedding Gown Designers
The hottest wedding gown designers
A milestone of the shapes wedding planning is choosing the dress. Let us ease the process and discover the wedding gown designers that will set the trend this year. Decide what to wear during the big day will set the mood of the event and will make the difference. We scouted on the bridal fashion week's runways some fresh and juicy ideas. From simple slip dresses, to bohemian inspired pieces to classic couture, let get inspired by our selection.
ph: dimitrasbridal
Galia Lahav
Galia Lahav is known worldwide for her attention to details and her meticulous sewing techniques that combined with high-end fabrications, bring to life exquisite creations. Galia is a woman full of energy that creates wedding gowns able to accommodate every woman's need. Her design is characterized by personalization and customization.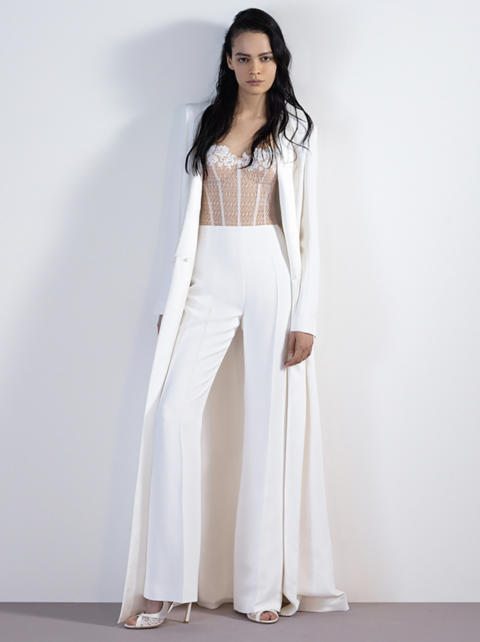 ph: galialahav
Leah Da Gloria
Leah Da Gloria for sure stands out among many wedding gown designers for her unique wedding gowns. Based on the combination of sinuous design lines and rich and opulent details. Her gowns underline the silhouette using pearls details, tulle and beautiful details such as hand-crafted silver floral and vine leaves.
Reem Acra
She is definitively one of the most creative designers. Reem, is always in search of redefining the boundaries of bridal fashion blending together tradition and modern trends. Creating pieces out of the schemes that combines different styles and texture, Reem Acra is the avant garde of the wedding gown designers.
Ines the Santo
With an eye on the romantic side of the glamour fashion, Ines the Santo creates unique wedding gowns that reflect romance and contemporary style. Her exquisitely handcrafted collections are never boring, infused with finest embroideries, based on the finest fabrics to reflect femininity and a delightful charm.
Lian Rokman
Lian Rokman's style is a reflection of a deep attention to details and a mixture between boho chich and a sensual bride.  Each dress is a way to enhance the feminine figure, from classic creations to sexy designs. Thought to be comfortable, Lian's wedding gowns are rich in details and made with highest quality materials.
Yolancris Barcelona
Not only for brides but also for glam evening wear, this stylish brand is founded by two sister Yolanda and Cristina.  They design and produce sleek dresses that are thought to be comfortable but at the same time rich n details and figure flattering. Their work is focused on high quality and modern designs.
Danielle Frankel
Danielle Frankel, truly Danielle Hirsch, with an eye to the past bridal styles and turns these nostalgic feelings into unique pieces. Gown thought with a simple style but perfect for brides with a modern and elegant approach. Elaborate dress' construction are versatile and totally of the moment.  Her bridal gowns are a celebration of a modern woman getting married.
Julie Vino
Among the wedding gown designers, Julie Vino distinguishes herself for a totally unique approach to the classic style. Her creations seem directly sculpted onto the brides' body and have a unique appealing. Off shoulder dresses, backline with lace details, sheer petal sleeve and much more, give to this wedding dresses a unique vibe.
Liz Martinez
This super creative Israeli designer for sure deserve a place in our list. A deep knowledge of the bridal industry combined with a true obsession with the fashion since her young age, turned her in one of the most elegant wedding designers. Her creations are full of tulle, embroideries and fine details that turn into a glamorous seductive attire.
ph: Liz Martinez
Wedding gown designers: Claire Pettibone
Inspired by nature her dresses are full of floral recalls. From the patterns to the details, her creations are pure organic beauty that seems born directly by mother earth. Claire Pettibone to life unique creations infused of a deep femininity with a bohemian and vintage inspiration. A luxurious style that embraces all the power of the bucolic seduction.
Sassi Holford
With an innate sense of style Sassi Holford combines clean lines with elegant accents. Her brides are timeless and romantic. Each piece is handmade with high-quality fabrics. Soft lines that underline the body and custom-made designs are the bonus of this stylist. Clients can take advantage of a bespoke couture service directly from Sassi.
Family wedding gown designers: watters
Mother and daughter are creating unique wedding gowns made of luxurious fabrics and exquisite details.  Bridal gowns created with a deep three-dimensionality. Rich of floral accents, sequins and contrast between a tight corset and a vaporous skirt. All Watter creations are based on modern lines combined with an artistic language. They do also have a specific collection for minimalist gowns.
Delphine Manivet
Eclectic but inspired by traditions, Delphine Manivet creations have a contemporary retro vibe. Her designs are infused of a timeless romance but without being old fashioned. Always updated on ned bridal fashion trends, Delphine Manivet shapes them into dazzling wedding dresses with highly structured shapes and with soft details.
Afterall, your wedding dress will influence many aspects of the planning, so choose it carefully! Happy scouting.