13 Nov

Wedding Day Emergency Kit
How to assemble a wedding day emergency kit
Anything can happen to a wedding and some problem may arise during the day.  From blisters a headache to make up disasters and wardrobe issues. Add the stress of the big day and a small hiccups can tun into a nightmare. it is always smart to have a list of things ready to use to get everything sorted. A ready wedding day emergency kit for any eventuality. Think it as mini crisis fixer as your best friend behind the scene.
At wed in Florence, we suggest to prepare your wedding day emergency kit based on your need and what you think you will need most. Remember you don't have to pack a suitcase, a simple small size makes up or a tote bag are is more than enough.
What you should put into a wedding day emergency kit?
Sewing kit.
Needle and thread can be the best ally for a bride. Look for a small, or even better a mini sewing kit. In general, it comes with basic threads colours, safety pins, mini scissors, needles and buttons. Smart tip: add extra threads that matches your and bridesmaids' dresses.
Boob glue and fashion Tape
This are the perfect fixer for several dress-related issues. Soft dresses, without a corset, slip wedding gowns with a deep V neck can be tricky. Boob glue and fashion Tape will keep everything in place while walking down the aisle.
Lip balm
Lips can get super dry during the wedding day. You don't realise how much you need hydration for your lips until you need it. Chose a transparent chap stick to you can use it with your make up lipstick.
Safety pins
Available in different sizes and colors they can turn into your best friend. They can help in any fashion emergency, from a
Bobby pins
Bring both, black and brown. If not you directly, someone from your bridal party may need them.
Breath Mints
Well, we don't need to say why you need this.
Anti-Blister Stick
You found the perfect shoes but consider your feet! Platers can be unesthetic and they do not last all day long. If you want to protect your heels and toes from blister this is a very discreet and convenient quick fix.
Paracetamol
Headaches can be a true nightmare during the big day, so a pain reliever medicine is definitively a must have. Bring extra tablets in case the bridal party needs them.
Tampons
You never know what can happen during a wedding day!
Stain Remover Pen
You will be eating, drinking, and running around all day long. At some point it's likely that your dress will get stained. Be prepared for this, not a big deal if you have a stain remover pen with you.

Tissues
Last but not least, tissues! You can use them for your happy tears, to clean your hands, to remove a spill over the dress, to dry the stem of your bouquet. Basically, your wedding day handyman.
Ready – made Wedding Emergency Kit
After that, if you don't want the stress of collecting the different goodies, there many elegant weddings emergency kit already pre-assembled.
Some of them are though just for the bride, and they have prepared single items, in small bags. Like the Custom Bridal Emergency Kit – Large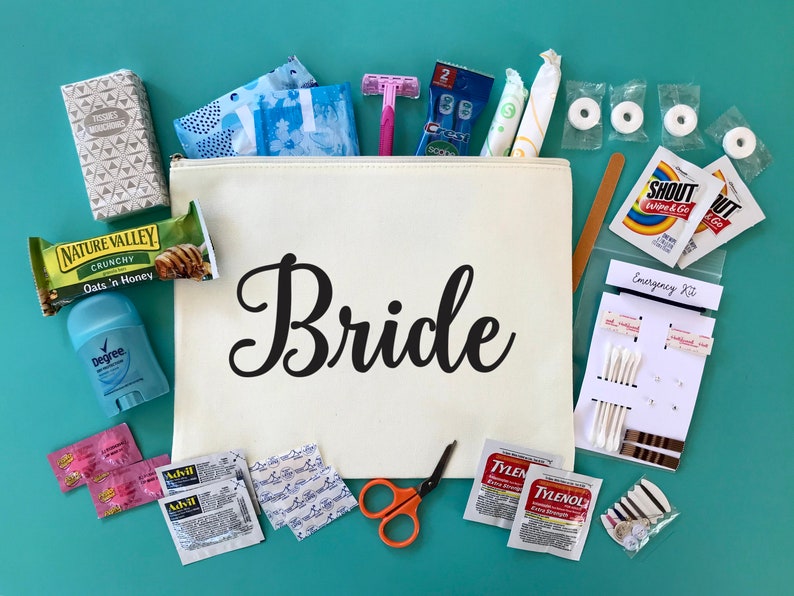 ph:
If you and your ladies are getting ready together and a bridal party emergency box will be perfect! It has a larger size and can be placed on a shell or a table and everyone can help themselves. In case you opt for this solution, it is suggested to add extra items such as: clear nail polish, deodorant, perfume, toothbrush, floss and super glue. In case you don't want a large communal bag, you can buy small elegant tote bags ready to use for all your bridesmaids.
ph:greenweddingshoes
Do you want to surprise your groom with a n extra cute gift? Why not place in his room a Groom Survival Kit. It's a fun present and it can alleviate the stress of the day. Plus, he may have forgotten some supplies.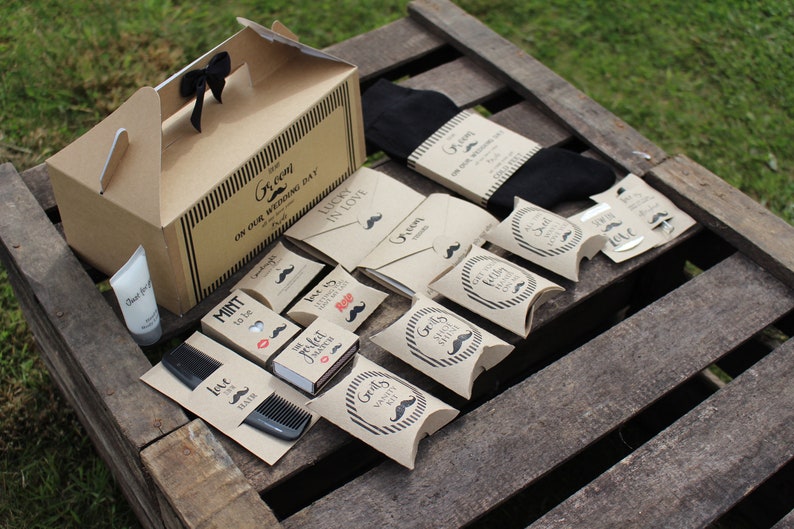 ph:
Do you need more help with your wedding day emergency kit? Contact us and we will be more than happy to assembly it for you!