09 Apr

What to wear to your rehearsal dinner
The importance of what to wear to your rehearsal dinner.
It is undeniable that the rehearsal dinner is the to kick off party of wedding celebrations. All eyes will be on you. After months of planning each detail is in the right place. All is packed and ready, big day, but you haven't thought about what to wear to your rehearsal dinner?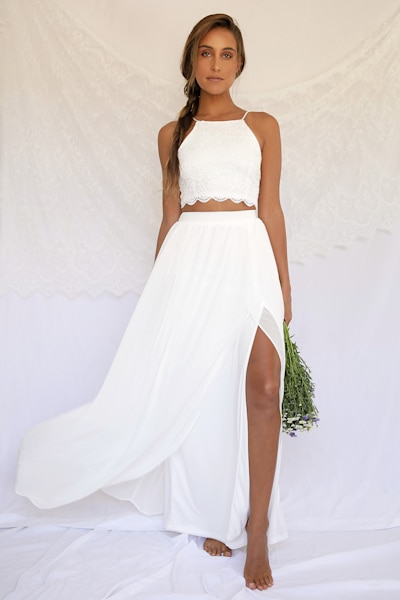 No panic. With our help and tips, you can leave the stress out of this decision and get inspired by our favourite look. There are so many options that can be a hard choice to select the right look.
From traditional outfits to more minimalist stiles, pick a dress that makes you feel comfortable. Think about the vibe of the venue, the time of the year and the type of event you are hosting.
Stay white
In terms of what to wear to your rehearsal dinner, whites are never wrong. If you want to keep the bridal style through the wedding days, you can play with accessories, patterns and designs. Experiment velvets, prints, long dresses, modern laces and embroideries.
Feathers can be incredibly appealing on white and provide a classy retro elegance. You can wear something with unexpected feathers details. For something more classic, but still super glamour prints can be the detail.
Surprise your guests with a white bridal tuxedo. For a romantic vintage vibe, combine the soft tulle with polka dots with a long and dreamy dress. Legs deserved to be showed, considering that in the most of the cases they will be covered during the wedding day. A mini eyelet dress will be perfect to add romance and grace to your rehearsal stye.
Worried about the boring white theme effect? Add the wow factor with bold and uncommon accessories, fashion details and glimmering touches.
Wear something opposite to your wedding attire
so, in terms of what to wear for your rehearsal dinner go for something that is completely against of what you will wear during the wedding day. The wedding days events are the perfect occasions to show multiple styles and to let the multiple parts of your personality to emerge.
Your wedding gown has the classic Cinderella style? Opt for a simple but refined frock. To go against a classic long wedding dress, a mini dress is always the right choice. Pearls' details are a superb choice is your style is classic.
To add a twist, you can think wearing a two pieces jumpsuit or a country dress.  If a touch of classy is a must have in your wardrobe, chose something with elegant details, such as pearls.
Are you wearing a slip dress for the wedding day? Buy a dress with rich details, such as ruffles a big bow in the waist or in the back of the dress.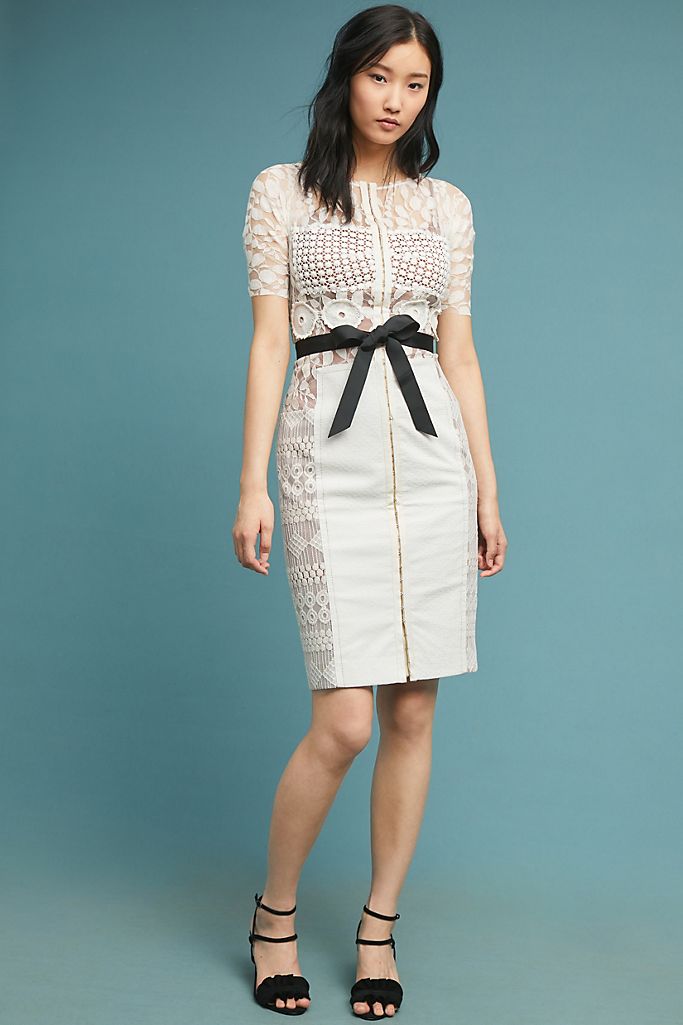 Puff sleeves will also add a twist to your rehearsal attire with a hypnotizing detail. A lace dress, suitable if you want to show your romantic side, will make the point during the night.
Follow the style or the location
There is nothing wrong to follow the stile of the event or the venue to decide what to wear at your rehearsal dinner. Your dress will reflect the mood of the wedding and anticipate to the guest what to expect from your celebrations. in case your wedding will be a black-tie affair, a draped dress will provide all the elegance required.
A long-trimmed dress is a lovely choice for countryside wedding days. Having a BBQ as pre-event? Why not opt for a long soft country dress with ankle boots?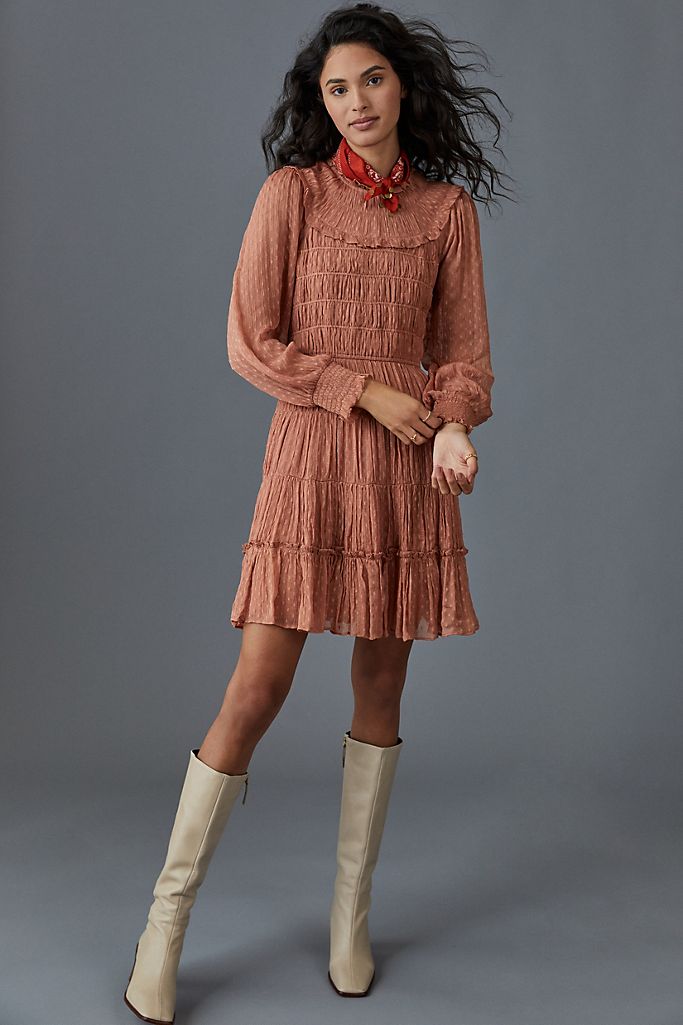 Cocktail dresses are perfect to reflect laid back but classy events, so add a twist to your rehearsal dinner with a modern black lace dress with romantic patterns. If the overall vibe of the wedding celebrations is informal, you can opt for a sundress for a casual look.
Be eccentric with what to wear for your rehearsal dinner
White attire will be reserved for the big day? Go for something colored. Black, pink, purple, yellow. You can match the hues of what you will wear at your rehearsal dinner with your color scheme. Even more, if you are hosting more than one event, you can select a shade for each occasion.
Sequins will provide sparkle and glamour to your look and they come in so many hues that you will be able to find the perfect tone that fits your style.
Go for bold attire if you have an eccentric personality, don't be scared to overdo!
There are no rules in the pre-event. Jumpsuits with unconventional details will be a wow factor. Break the tradition with a naked look.  Mix and match floral patterns for charming and exotic look.
Whether your style is modern, romantic, classic or vintage, no matter what will be your choice, you will be beautiful. Remember to wear something comfortable and that fits you. Feeling confident is the best way to start the celebrations. In case you will be wearing high heels, could be a smart choice to have a second pair of shoes with you.
Last but not least, prepare a tote bag with some lipstick, tissues, paracetamol and small handy items, you don't want to shine only at your wedding day!
Do you need more tips about what to wear during your rehearsal dinner? Get in touch!